As featured on Food Safety Magazine.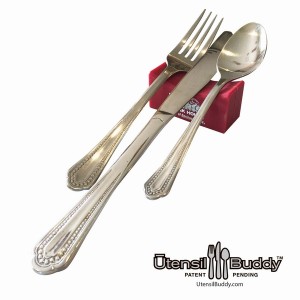 The owner of Pacific Emblem Company has invented and patented the Utensil Buddy–a small tool used for propping up utensils during mealtime.
While dining out, wait staff usually remove plates away from the table, leaving silverware to sit on a sticky, germ-ridden surface. The Utensil Buddy prevents this. Made of safe, food-grade silicone, this silverware companion can be imprinted with up to four colors and is ideal for casinos, restaurants, buffets, resorts, foodservice facilities, nursing homes, fast food chains and other food establishments. The Utensil Buddy not only prevents cross-contamination of during mealtime, it also saves businesses time and money on dishwashing and the cost of silverware because customers can use the same utensils throughout their meal.